Get Accurate Results From Our
Gas Chromatograph and Liquid Chromatograph Mass Spectrometer Systems
Welcome to Northwest Lab Source - your number one resource for all your refurbished and used chromatography and mass spectrometer equipment. We carry a variety of brands including Persee, Agilent, and AB Sciex. We carefully inspect all our equipment, and we ensure quality assurance. All the companies we work with are certified and carry years of experience in handling sensitive equipment.
At Northwest Lab Source, we are devoted to ensuring we provide you with all the laboratory equipment you need. We offer shipping both inside the United States as well outside the U.S. borders. The team at Northwest Lab Source is extremely knowledgeable and well versed in the industry.
To learn even more about our refurbished and used chromatography equipment, contact our team today.
LCMS/GCMS Mass Spectrometers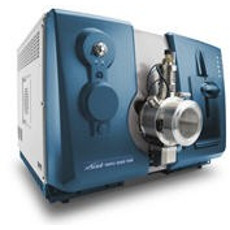 The AB Sciex 4500 LC/MS/MS is the intelligently re-engineered design of the 4000 QTRAP Platform and sets a new benchmark for robust quantitation and library searching. The system is ideal for laboratories requiring ultimate robustness, ruggedness, and reliability for high-throughput screening of many compounds in many samples every day.
The AB SCIEX 4500 has been re-engineered to set a new benchmark for reliable quantitation and library searching - with 100 fold more full-scan sensitivity over basic triple quadrupoles in the same class. The LC/MS/MS covers key performance criteria: Quantitative sensitivity, dynamic range, scan speed, ionization source flow range, and footprint.
Features:
TurboV ionization source- The gold standard for LC-MS/MS ionization, the TurboV ionization source was made for demanding applications, with a patented design that delivers highly efficient desolvation for stable, sensitive performance across a wide range of flow rates from 50 uL/min up to 3 mL/min, with the versatility of ESI and APCI ionization capabilities and compatibility with microflow hybrid electrodes (to extend flow regime down to 5 uL/min) in the same source so you can run a wider scope of methods on your system.
Curtain gas interface- The curtain gas interface provides a wall of clean nitrogen to help prevent neutral components from entering the mass spec, so the system is more robust, requires less maintenance, and delivers increased uptime for your lab. When tested against 1500 plasma injections, the combination of interface and source delivered consistent quantitative results with response CVs & lt; 4%.
QJet ion guide- The QJet design is what brings the system reliability and sensitivity, providing increased uptime, reduced maintenance, and improved ion transmission efficiency which enhances overall sensitivity.
LINAC collision cell- The engineering of patented Qurved LINAC collision cell provides fast and efficient ion fragmentation, with insignificant crosstalk, so you are able to get higher quality MRM and MS/MS data, particularly for high-throughput methods with hundreds of compounds.
AcQuRate pulse counting detector- The AcQuRate pulse counting detector was designed for reproducibility and accuracy, providing excellent results for low level compound detection and a wide dynamic range.
Dynamic range- Achieve up to 5 orders of dynamic range for high performance quantitation in your first injection, reducing the needs for repeat analyses for increased productivity.
Mass range- The 5 to 2000 Da mass range allows flexibility to tackle a large scope of quantitation assays on your single mass spec system.
Ultra-fast MRM cycle times- With 1 minimum dwell times of 1 msec for MRM acquisition, you can screen for more compounds in every pass, increasing your throughput and data quality.
Triple Quad LC-MS/MS systems deliver superior quantitative results in a single injection workflow. When you activate the optional QTRAP functionality, your instrument acts as a linear ion trap (LIT). This allows you to acquire even more data from your sample without sacrificing the sensitivity or quality of your multiple reaction monitoring (MRM) analysis. The QTRAP technology incorporates additional scan types, such as MRM3 (MS/MS/MS), Enhanced Product Ion scans (EPI) and many more. The additional scans can run at the same time you are acquiring your MRM, without any impact on performance or quality of data.
The SCIEX 5500+ System is built on a legacy of cutting-edge engineering innovation. The quality and care are evident in the design of this mass spectrometer. The ion path contains multiple unique technological advances that will enable your laboratory to produce superior results.
Whether you are focusing on pharmaceutical drug discovery workflows, clinical research, food and beverage testing, complex environmental analysis, academic studies, or searching for answers from crucial forensic samples, the 5500+ system is equipped to handle the challenge.
The modular framework of the SCIEX 5500+ System enables additional component upgrades to enhance your data. The instrument is compatible with SelexION® differential mobility separation which delivers exceptional selectivity of isobaric compounds. If your workflow demands low flow rates, the OptiFlow® Turbo V™ Ion Source is the ideal technology to achieve your goals. Optimized for microflow chromatography, the OptiFlow ion source can further increase sensitivity, improve selectivity and reduce the consumption of solvents and other consumables.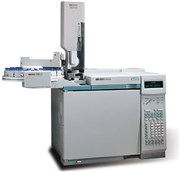 The Agilent 6890 is a leading GC system with state of the art dynamic temperature programming, EPC pneumatics and flow controls.
The 6890 comes equipped with a split-splitless injection system that supports a wide variety of sample introduction techniques including thermal desorption, on-column injection, solid-phase micro-extraction (SPME), direct headspace injection, and solvent-based injections.
Standard equipment includes a flame ionization detector (FID) ideal for running serial parrafins for retention index determinations.
The Agilent's well-documented reliability and ability to deliver extremely stable retention times make GCO and dilution analysis a robust sensory/analytical method.
The HP Agilent 6890 (G1530A) Plus Gas Chromatograph with Dual Split/Splitless Inlet is designed for an array of applications including: hydrocarbon processing, food safety, pesticide determination, chemical analysis, biodiesel, drug screening, toxicology, environmental and law enforcement.
The HP 6890 Series gas chromatograph system delivers unprecedented levels of performance, convenience, productivity, and eases regulatory compliance. The HP 6890 series GC features electronic pneumatics control of all gas pressures and flows. Onboard sensors automatically compensate for ambient temperature changes and barometric pressure differences to routinely achieve more accurate and reproducible results.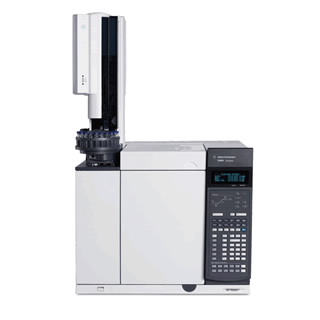 Agilent 7890
Retention Time Locking (RTL) maintains exact retention times from injection to injection, column to column, instrument to instrument, and lab to lab
Capillary Flow Technology (CFT) provides unique instrument capabilities, such as multi-dimension gas chromatography (GC-GC/Deans Switch), comprehensive two-dimension gas chromatography (GCxGC) with flow modulation, and backflush at the beginning, middle, or end of the analytical column
Single filament TCD that does not require a separate reference gas, does not require manual potentiometer adjustment, and provides a stable baseline with a minimal amount of signal drift
Auto-ranging FID provides the ability to detect and quantitate from parts per billion (ppb) to parts per thousand in a single injection
Integrated SCD/NCD (sulfur or nitrogen chemiluminescence detector) provides low ppb detection, equi-molar response, and quantitation for sulfur or nitrogen contaminants without quenching from matrix
Carrier Gas Options: Helium Conservation Module, Hydrogen Sensors and Alternate Carrier Gas Solutions dramatically reduce the amount of helium used to offer flexibility in your laboratory
Large Valve Oven (LVO) allows for the combination of multiple methods and simplified maintenance
Multimode inlet (MMI) serves as a programmable temperature vaporizing injector with flexible capabilities
Agilent Inert Flow Path provides increased sensitivity for active compounds, from injection to detection
Low Thermal Mass (LTM) modules, up to 4 installed and operating, increase sample throughput with rapid column heating and cooling
The Agilent 5975C Series GC/MSD, with Triple-Axis HED-EM Detector, combines innovative design features to boost your lab's productivity and advanced analytical capabilities – to help you achieve better results faster. Perfectly complemented by the robust capabilities of the 7890A GC, the platform delivers all of the elements for perfect chemistry: superior performance, unmatched reliability, greater productivity, and enhanced ease-of-use.